Meteorology/Climatology Overview
Overview
Our sub discipline practices an integrative education and research foundation in Meteorological and Climate systems, whilst accommodating an affluent mixture of interdisciplinary and specialist research which covers the broad aspects of Meteorology and Climatology. The Meteorology/ Climatology sub discipline is constructed of students, staff and researchers from a variety of posts. Our undergraduate schemes consist of students who belong in the Faculty of Natural Sciences of the Primary College Clusters and the newly founded (H19, 2006) College of Geoscience, of the School of Life and Environmental Sciences. Our graduate schemes consist of the Master`s program in Geoscience (First stage and Second stage), Master's program in Environmental Sciences (First Stage and Second Stage) and the Doctoral Program in Geoenvironmental Science. The department also utilizes a wide range of facilities, such as the Center for Computational Sciences, Continental Environment Research Center and so forth.
Our department utilizes this diversity and achieves a very cross disciplinary research transaction through methods such as joint seminars, combined with research practiced within each individual laboratory. For further details, please visit the individual websites of the seminar groups and the research groups.
Education Objective
Within Meteorology/ Climatology, the phenomenon which exist in the atmosphere are classified into Global scale, Mesoscale and Microscale. Through Observations, Analysis and Modelling, we aim to educate in deepening our understanding with the individual physical processes and their locality. Furthermore, by comprehensively understanding the transactional processes characteristic of meteorology that occur within the Earth system, we would be able to comprehend the structure of the climate system in order to develop personnel who are able to contribute in the preservation of the Earth's environment.
Logo Mark
Below is the logo of the Meteorology/ Climatology sub discipline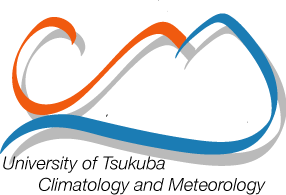 The image represents the two peaks of Mt. Tsukuba (Male Body Mountain and Female Body Mountain) and the Tsukuba Fall wind
Terms of usage
Individual permission is required if the image is to be used by students or researchers for individual presentations.
If personnel outside of the sub discipline wish to use the image, please contact our staff for further details.